Word Count: 1,310
Estimated Read Time: 5 min.
On Sunday, January 26, 2020, Kobe Bryant and eight others died in a tragic helicopter accident at the age of 41.  Considered one of the greatest basketball players of all-time, Bryant had retired from the National Basketball Association (NBA) after playing for the Los Angeles Lakers for 20 years.  With them, he won five NBA championships.  He also won two Olympic medals.  In addition to his keen ability to leap and dunk, his skillset included a "turnaround, fadeaway jumpshot" that left defenders helpless and footwork that made him one of the NBA's most  gifted scorers in the league.  On the last game he played before retiring in 2016, he scored 60 points in a single game.  That might be impressive were it not for the fact that he had scored 83 points in another game — the second highest number of points ever scored by a player in a single game — and is currently the fourth highest cumulative scorer in NBA history.   He was also an 18-time All-Star (out of the 20 seasons he played), 15-time member of the All-NBA Team, 12-time member of the All-Defensive team and was the NBA's Most Valuable Player in 2008.   That is quite a legacy.
However, after retiring in 2016, Bryant went on to have a second act.  He dove into the creative world, writing and producing three movies:  Daddy's Home in 2016, Dear Basketball in 2017 and Detail in 2018.   He won a lot of acclaim for his creative work.  In fact, Dear Basketball won the 2018 Oscar for Best Animated Short Film.  It was based on a letter he wrote to his team members and fans when he retired from his basketball career.  Winning an Oscar is particularly impressive considering that Bryant went to work for the NBA right out of high school and never attended college.
But even more impressive and less known is that Bryant also became a Venture Capitalist, investing in a multitude of new and growing businesses.  Indeed, Bryant was intensely focused on putting his money to work helping develop new initiatives and businesses ventures.  He co-founded Venture Capital firm Bryant Stibel in 2013 (even before retiring from basketball) to do what the firm's website described as, providing "strategy, capital, and operational support to businesses with a focus across technology, media and data."  The Bryant side of the firm was the creative vision of 'Kobe', leveraging his globally-known and respected brand that enjoyed first name marque recognition.  The Stibel side was Web.com CEO and serial entrepreneur Jeff Stibel, known for spotting unicorns and transforming them into lucrative, profitable businesses.  Collectively, Bryant Stibel invested $2 Billion in 28 companies including:
Reserve, the restaurant-booking company
LegalZoom
The Honest Company, singer Jessica Alba's wellness brand
Art of Sport, the body care products manufacturer
Cholula, the popular hot sauce brand
Tile, the lost-item tracker
Epic Games, the company behind Fortnite
TeamViewer, the desktop sharing and online collaboration company
Alibaba, the Chinese online retail giant
Dell Technologies
National Vision
VIPKid.
Bryant's very first investment – a 10% stake in healthy sports drink maker BodyArmor – was purchased by Coca-Cola, which turned an initial $6 million investment into $200 million.  However, Bryant's interest in being a Venture Capitalist was reputedly not just about the money.   In truth, he did not "need" more money.  Having earned $323 million in salary from the NBA and another estimated $680 million in endorsement deals with Nike , McDonald's, Nintendo, Lenovo, Hublot and Panini over a 20-year career, he did not need to hang a VC shingle because he was short on cash.  Nor was it a certainty that his investments would pay off, considering his lack of formal education. But, Bryant was just as successful as a Venture Capitalist as he had been in his sporting and creative endeavors, and he saw it as his most important work.
Indeed, on a recent ABC interview, Bryant was asked by newscaster Robin Roberts if he wanted to be remembered for his accomplishments in basketball, his creative endeavors or his business investments.  He responded that he preferred to be remembered for his business investments because that is where the future is… in nurturing the next generation of successful entrepreneurs and then having them do the same.
So what does this have to do with Servant Leadership?  Belief in Servant Leadership was a key part of Bryant's success.  When asked — in a short video interview on LinkedIn last year — what his number one piece of advice would be to all entrepreneurs, Bryant responded with two simple words: "Servant Leadership."  Bryant saw value in the philosophy and demonstrated that spirit of Servant Leadership in his endeavors.   Speaking to the Defending Champion football team at the University of Alabama in 2018, Bryant said:
"To be an effective leader, you have to be a really good listener and not just to what's being said but to what's not being said. You have to be really observant. That was a big transition for me. I went from being a scorer and a floor general…. to being a leader, and that meant putting others first. That meant not worrying about:  Are you in rhythm? Are you playing well in this game?  Are you ready to go?  And, worry instead about:  Are they ready? What can I do to help them be ready?"
"That's the big transition.  You've got to observe them, because they all have things they want to accomplish as individuals. And, as a leader, you're like, 'OK, what are those things, and how can I help them accomplish that within the system and structure that we are trying to do collectively'?"
Although Bryant was not speaking to business leaders that day at that gathering, his advice could just as easily been directed to a room full of entrepreneurs.  Bryant ultimately came to believe in Servant Leadership and all it entails.  But, he didn't start out that way.  Initially, as a basketball player, he was always demanding and pushing. However, over time, he said he realized that "holding my foot on the throats of my teammates would not guarantee, despite my personal greatness, that the team would go on to victory."  This led him to Servant Leadership.
What is Servant Leadership?
According to Robert K. Greenleaf, the founder of the Center for Servant Leadership and the one who coined the term in an essay he wrote in 1970, "Servant leadership is a philosophy and set of practices that enriches the lives of individuals, builds better organizations and ultimately creates a more just and caring world."  Greenleaf believed the best leaders were servants first, and the key tools for a servant-leader included listening, persuasion, access to intuition and foresight, use of language, and pragmatic measurements of outcomes.  He also thought servant leadership was for people of all abilities, nationalities, faiths, races, and gender.  And it could also be applied to all institutions, secular and religious.
This style of management believes that trust and power is gained through service.  Leaders — who have gained trust and who people want to follow — achieve moral authority by being servants to their followers, not by wielding titles or using coercive power. While every organization has a chart that shows who people are to each other, in an organization that espouses servant leadership, the chart is upside down.  The focus is on how people are there for each other.  It looks like this.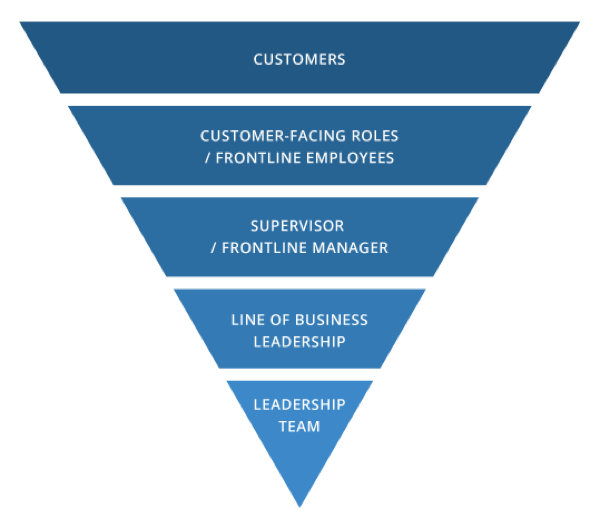 Management guru Ken Blanchard put it best when he said, " In the past a boss was a manager. Today, leaders must be partners with their people… they no longer can lead solely based on positional power."  So, exactly how does a person demonstrate Servant Leadership?  Next week, we will look at the top 10 qualities that a Servant Leader possesses and demonstrates.  Don't miss it!  It could help you take your organization to the next level.
Quote of the Week
"Nobody cares how much you know, until they know how much you care." Theodore Roosevelt
© 2020, Written by Keren Peters-Atkinson, CMO, Madison Commercial Real Estate Services. All rights reserved.