Word Count:  1,436
Estimated Read Time: 5 1/2  min.
The relentless pace of change is accelerating.  Just keeping up with technology, systems, processes, laws, regulations and trends can be positively draining for corporations.  Every time we blink, some other aspect of business has evolved and requires updating.  With the arrival of 2018, companies big and small are reviewing, revisiting and restructuring their legal and operational organizations to maximize the financial and tax benefits.  There is so much that will need to be overhauled in just those areas alone.  It is easy to overlook sales and marketing when everything else needs attention, but that would be a mistake.
It is also important to review and revamp a company's brand to keep up not only with big changes in design but also to ensure that the company's identity has the portability to be viewed across a multitude of devices and outlets.  Companies of all sizes are streamlining and optimizing their brands to ensure they resonate across a wide array of mediums, audiences and platforms.  To tear a page off Nike's playbook, it is key to build a brand with ongoing appeal to every demographic and across every medium worldwide.  Indeed, when it comes to universal brand appeal that is continually evolving, Nike is King.   But actually all savvy brands understand that a brand's identity – the look, feel, voice, attitude and personality — is not something that is created and done. It must evolve with the times and trends.  To that end, what should corporations be considering as they look to update their brand to today's design trends?
Updating Design In Ways That Make Sense for Businesses
There are industries in which staying current and trendy is as important as being creative and customer-driven.  Industries such as fashion, interior design, technology, entertainment, cosmetics, and music must frequently update their look to the latest, edgiest styles that can be found.  They must constantly infuse international funk and swag into their logos and bring sub-cultural design flair to their marketing efforts.  It makes sense for those firms to continually update their brands because those industries go hand-in-hand with graphic design.
However, there are many industries where it is actually better to not be quite so trendy and unconventional.  Real estate, finance, healthcare, oil and gas, construction and education are sectors trusted and valued for their steady reliability.  A corporate, traditional look for brands in these sectors is equated with sound business practices.  That said, even companies in those industries must periodically reassess their brand position to stay current and remain fresh and connected.
Responsive Design and Mobile First
Responsive design is not new, but it is finally trending in 2018.   For those who still don't know what this is, responsive design is an approach to web design aimed at making sites deliver an optimal viewing and interaction experience—easy to read and navigate with a minimum of resizing, panning, and clicking—across a wide range of devices, from a  desktop computer to a table to a smart phone.    According to Sweor, they define responsive design as those that "adjust to the pixel-width of the screen upon which they are being viewed, providing the same level of user experience on every device and preserving all content necessary to maintaining such user experience."[1] That means text should be readable without having to stretch the screen to enlarge it.  Images should fit within the screen, especially horizontally.  Instead of having to click on many different pages, design is elongated to cater to scrolling interaction, which works well with a phone, tablet and even laptops that have touch screens.
Google made responsive design a priority in 2014 and tied ranking to responsiveness. So every company should have converted all of its online marketing efforts to responsive design.  Website.  Landing pages.  Blogs.  Eblasts.  eCommerce functionality.  Apps.  Etc.  In reality, however, the vast majority of companies and organizations did not convert to responsive despite Google's mobile-first algorithm changes.  By 2015, only a small percentage of websites had actually adopted responsive design. According to Bryson Meunier, "In post outlining his research, Akamai's Guy Podjarny showed that just 18.7% of a list of 10,000 top-tier web sites is responsive. The percentage decreased in proportion to the traffic the site got." [2] That number continues to be remarkably low three years later.  Sweor indicates that for small businesses, the percentage with responsive websites was 11.8% in 2015 and just 17% by late 2017.[3]
Ultimately, the goal is for users to be able to navigate sites and consume content easily on multiple platforms.  A recent 2017 comScore report on Mobile's Hierarchy of Needs shows that not only does multiplatform use dominate in most countries, a whopping 80% of people in the U.S. use a combination of devices or use strictly mobile devices.  Only 20% are still using just desktop computers.[4] And mobile devices are projected to reach 79% of global internet use by the end of 2018.[5] That's a good reason to convert to responsive design.  Those that haven't need to move quickly to adopt responsive design.[6]
Design with Depth and Movement
Say goodbye to flat design, which was very fashionable a few years ago, and say hello again to graphics that have depth.  But this is not just design with a drop shadow, this is design that shows dimensionality and movement. [7]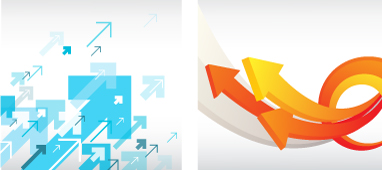 Duotones, Double Exposure Duotones and Digital Paintbrush
Duotones has already been trending for a while and will continue in 2018.  This is a design effect in which an entire image is shown in two tones/hues.  Spotify has made this particularly popular because they use it on their playlist images.   This is an effect that can easily be added to a brand and then removed when the trend fades.[8] There is also the use of double exposure duotones, which will be on the rise as well as digital paintbrush. [9]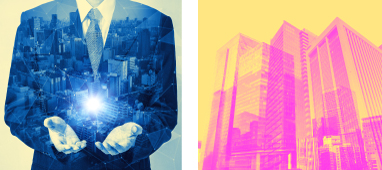 Bright Gradients and Background Patterns
The use of gradients is nothing new, but the trend for 2018 is to use brighter gradients or background patterns and textures behind images and text.   This adds depth, which was already mentioned as a trend, and intensity to design. [10]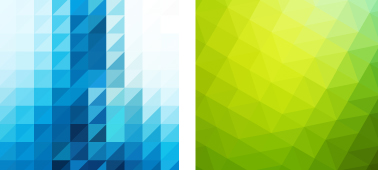 Bold typography
There has been a big increase in design that uses really bold fonts.[11] And there has been an increase in mixing fonts to push dramatic effect.  This means mixing serif and san serif fonts.  Making some text bigger and others smaller, and mixing the color of the text.  There is also a push to superimpose text over portions of images, but in a way that doesn't detract from the thrust of the image.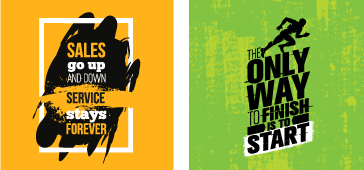 Geographic Shapes and Asymmetrical Lines
The use of geographic shapes and asymmetrical lines in graphic design has been growing and is now really exploding in digital and print.[12] It is, however, the kind of design trend that should probably be tempered for use with brand updates and business marketing.  It gives a look that is disorganized, playful and unpredictable.  Those are not qualities that trust-reliant industries — such as banks and lenders, insurance companies, hospitals, and developers — want to convey.  These can be used in small doses in eblasts or ads, but probably should be avoided in a brand makeover.
Authentic photography
As the value of authenticity has increased, anything fake has decreased in value.  Thus, it is no surprise that generic, mundane stock photos have become passe.  Using posed, artificial, perfect photos that clearly scream "stock" is out.  Just as genuineness, truth and realism continue to grow in all areas of sales and marketing, so too are customers preferring images and video that are less polished and artificial and more real.
Instead of posting photos of people, property and action purchased off a website, consider hiring a photographer to take photo-journalism type images for ads and websites.  These images will still have good storytelling qualities, but won't be available everywhere or quite so posed and perfect.   Think gritty and natural.  Stop photo-shopping out imperfections.
Understandably, even when business owners want to update their corporate brand so it continues to look fresh and current, they may be concerned about alienating the customers who have come to have a positive association with their existing (stale) brand.   That is a legitimate concern.  The marketers for every business must figure out when it is time for a "brand facelift", how often the brand needs to be touched up to remain current and just how much to change to update without distorting the brand altogether.   Some style trends will make sense to use and infuse.  Some can be used in moderation.  And others not at all.  Consider what is trending now and then decide how much of it makes sense for the company's targeted audiences.
Quote of the Week
"Marketing's job is never done. It's about perpetual motion. We must continue to innovate every day." Beth Comstock
---
© 2018, Written by Keren Peters-Atkinson, CMO, Madison Commercial Real Estate Services. All rights reserved.